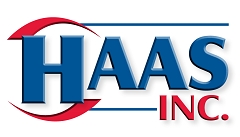 Welcome to our new website!
Here is a little history about us.
Haas Sons, Inc. of Eau Claire and Thorp, WI has 40 years of experience providing quality concrete, excavation, and trucking services to Central Wisconsin. We have customers from Eau Claire to Wausau. Our excavators provide service that you can count on. Our company is family owned and run. It was started by a father whose 6 children continue to watch it grow. We are fully licensed, bonded, and insured.
Although Dave Haas has been inactive in the business for about two years now, the legacy of Dave and Pauline Haas still rings true within the fabric of the company. Hard work and unquestionable ethics have never changed in a business that has grown from hauling lime to the agricultural industry in 1961, to the sophisticated and integrated full service company that exists today.
Today, sons Philip, Steve, Gary and Darrel Haas along with daughters Brenda and Marie continue the legacy of Dave and Pauline, and sit at the center of a business that has grown to include trucking, grading, site work, sewer and water and crushing. Each brother manages a component of the business. Excavators and wheel loaders were utilized early on in the loading and unloading of lime. Excavation work started then, but flourished as their sons started graduating from school. Street Utility work escalated in the mid 1980's as well as the crushing business. The company entered the redi-mix business in 1996 and currently owns two plants in Eau Claire and Thorp, WI. In 2006, significant investments were made in the positioning system technology. According to Steve, "the new generation of Haas boys...the "Nintendo" generation…made it possible to transition into the highly technological field of GPS systems." The company started and remains based in Thorp, and seeks out jobs within a 100-mile radius of the community.
Safety is paramount in a Haas and Sons operation. "We work carefully to meet every regulation that has to do with safety," Darrel explained. "Our sons are coming into the business in a much different way than we did as kids and we have to approach safety as our highest priority for our employee's and our family's sake."
The company operates multiple brands of wheel loaders, excavators, graders scrapers, articulated dump trucks, dozers and their fleet of dump trucks. Their fleet includes 5 Deere wheel loaders from the 644HMH to the 824J, along with 2 Hitachi model 600 and 800 excavators and three Deere model 700H and 700J dozers. According to Darrel, "the Deere loaders are powerful and smooth, have excellent turning radius and great hydraulic power." As for the dozers, Steve offered, "the controls on the Deere dozers with the GPS system are much more responsive than the other dozers we run." Haas and Sons bought their first Deere dozer in the summer of 2007 and has since added a 700H. The two biggest excavators in the fleet are the Hitachi's which speaks volumes for the productivity of the machines. As for Nortrax, they really appreciate the parts and service support received out of the Eau Claire Nortrax store. As Gary, states, "the parts guys there work real hard to support our business and that's important to us."
Third generation family members are now very much a part of Haas and Sons, a very firmly rooted family business which is an integral part of Wisconsin's Chippewa Valley. Nortrax salutes them on their contributions to our communities for the past 47 years.